352nd Special Operations Group (352nd SOG)
The 352nd Special Operations Group, based at RAF Mildenhall, England, is an essential part of the Air Force Special Operations Command. The group has more than 800 Air Force personnel assigned, as well as nearly 50 personnel attached/associated as members of Joint Special Operations Air Component-Europe and Detachment 2, 25th Intelligence Squadron. The group is the only Air Force special operations unit in European Command.
Mission
Under the operational control of Special Operations Command Europe, the 352nd SOG plans and executes specialized and contingency operations using advanced aircraft, tactics and air refueling techniques to infiltrate, exfiltrate and resupply special operations forces. The group also provides helicopter aerial refueling and special operations weather capabilities. The unit has five squadrons and three different versions of MC-130 aircraft assigned. In addition, the 352nd SOG added its first two of 10 CV-22B Osprey tilt-rotor aircraft in June 2013.
The group or its squadrons have deployed in support of Operations Desert Storm, Provide Comfort, Enduring Freedom, Iraqi Freedom, Provide Promise, Deny Flight, Allied Force, Assured Response, Silver Anvil, Atlas Response, Support Hope, Joint Endeavor, Deliberate Force, Guardian Light, Guardian Assistance, Shining Express, Autumn Return, Assured Delivery, Aster Silver and Enduring Freedom-Trans Sahara, Odyssey Dawn and Unified Protector. The group is regularly called upon to support special operations for OEF and OEF-TS as well as other Overseas Contingency Operations.
Special Report on the 352nd SOG Expansion & Re-Equipment July 2013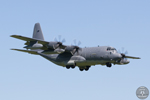 Click the Image
7th Special Operations Squadron (7th SOS)
operates the MC-130H and CV-22B, executing night, adverse weather, long-range insertion, extraction and resupply operations into hostile, denied or politically sensitive areas. The squadron also supports noncombatant evacuation, humanitarian relief, and other special operations. The Combat Talon II and Osprey are employed using a combination of terrain-following radar, high-precision avionics and sensors, and electronic countermeasures.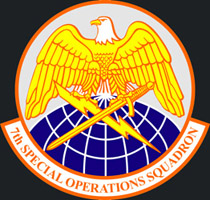 Click the badge
67th Special Operations Squadron (67th SOS)
operates the MC-130P and the MC-130J to provide precise, reliable, flexible, and responsive specialized air mobility. Utilizing night vision goggles, the aircraft penetrate hostile, denied or politically sensitive areas to conduct single-or multi-ship infiltration, exfiltration, and resupply of special operations forces via airdrop or airland operations and aerial refueling of SOF vertical lift assets. The squadron also supports information operations, humanitarian relief, medical evacuations, and noncombatant evacuations.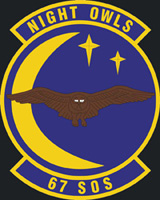 Click the badge